A Word of Encouragement from Elizabeth Rice Handford
You remember those tedious lists of names scattered through the Bible, don't you? Somebody "begat" somebody, or somebody belonged to some tribe or other. One day recently, the two chapters I was to read in my Bible that day seemed to be a list of such names, and I was bored.
I grew up in a home where we read straight through the Bible every day. I treasure those sweet days of hearing God's Word, and believing it, and being changed by it. So, ever since my teens I have read the Bible through nearly every year. But the Old Testament portion I was to read that day, Nehemiah 11 and 12, seemed to be a tedious list of unpronounceable names of people I knew nothing about. So why should I waste time reading names when I could be reading a Scripture that would help me to live for Jesus today?
Why? Because, the Lord reminded me, "Man shall not live by bread alone, but by every word that proceeds from the mouth of God" (Matthew 4:4). So, obviously, God wanted me to learn something important in that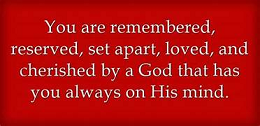 list of names. I reread the first three verses again:
Now the leaders of the people were living in Jerusalem, the holy city, at this time. A tenth of the people from the other towns of Judah and Benjamin were chosen by sacred lots to live there, too, while the rest stayed where they were. And the people commended everyone who volunteered to resettle in Jerusalem. Here is a list of the names."
So these names were of real human beings. They'd made the tedious three-month journey across the desert from Babylon after 70 years in exile. Some of them were too young even to remember their native land. Yet, finally at home, they left the peaceful countryside and volunteered to live in the rubble-filled, fire-gutted streets of Jerusalem. It was a sacrificial, uncomfortable decision, but they did it because they truly loved God. So God had their names written down, and I read every name. And I learned something truly awesome. Malachi 3:16,17 says this about them:
Then those who feared the LORD spoke to one another,
And the LORD listened and heard them;
So a book of remembrance was written before Him
For those who fear the LORD
And who meditate on His name.
"They shall be Mine," says the LORD of hosts,
"On the day that I make them My jewels."
God heard those faithful people talking about Him, and He listened, and had His angels write down their names! Some wonderful day, when all those who have trusted Jesus to be their Savior have gone to Heaven, God will open that "book of remembrance." He will read again, I think aloud, the names of all the faithful people who loved Him and talked about Him (—that boring list of names!)
The Scripture says that one wonderful day He will make them His "jewels." I can't imagine exactly what that means, but you can be sure it will be incredibly awesome. Imagine! God listens to our conversations. He knows when we're being faithful to Him in difficult situations. He treasures our love. So He has our names written down to remind Him. Some blessed day He will honor and reward those who loved Him and talked to others about Him.
What could possibly be boring about that?