A Word of Encouragement from Elizabeth Rice Handford
Last week my daughter and son-in-law Tim Holmes hosted at their home a reunion for people who attended Southside Baptist Church when it was on August Road in the '60's and '70's.  Walt served as pastor there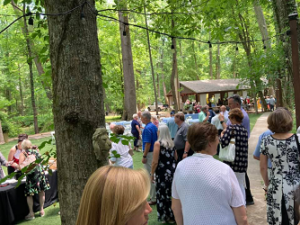 for 31 years.  More than 365 people showed up, to reconnect and remember.  I knew I'd gotten very old, but I didn't realize that even our teenagers would have aged in those intervening years.  I was glad for the name tags.  Often I could see the lineaments of the child I had known in the adult face before me, but not until I'd read the tag!
We sang the old familiar hymns, led by our song-leader Frank Garlock with gusto and joy.  We heard the stories of  the men and women who'd served on staff those cherished years.  We ate the classic southern menu: barbequed pork, baked beans, macaroni and cheese. potato salad, and cole slaw.  Ice cream sundaes topped off the meal.  (You'd think we'd never heard the dirty word calories.) We basked in the delight of our friends' stories of God's goodness and faithfulness through the long years.  We listened to a passionate, recorded invitation to trust Christ which Walt had given years ago, and we remembered the holy vows we'd made to God under his ministry.
My heart was filled with gratitude for such a godly heritage.  I married a man totally and gladly committed to serving God with all his heart.  My parents were steadfast, loving people who lived as they taught, as were my grandparents.  In the courthouse at Rogersville, Tennessee, I saw the will a friend wrote for my great-great-great-great-great-grandfather John Rice and signed with his X.  It recorded his deep faith in the Lord Jesus and his prayer for the generations to come.
But with my gratefulness comes a burden.  Have I given to my children and grandchildren the same inheritance I received from my parents?  I've been given so much.  Have I passed it on to others with the same faithfulness?
Our children face a world more defiled than what we grew up in.  Our culture is tainted with ill-will, selfishness, and rebellion.  Since last week's joyous reunion, I find myself praying this prayer of the Psalmist:
I will tell everyone about your righteousness.
All day long I will proclaim your saving power,
for I am overwhelmed by how much You have done for me.
I will praise your mighty deeds, O Sovereign LORD.
I will tell everyone that You alone are just and good.
O God, You have taught me from my earliest childhood,
and I have constantly told others about the wonderful things You do.
Now that I am old and gray, do not abandon me, O God.
Let me proclaim your power to this new generation,
your mighty miracles to all who come after me. Psalm 71:15-18 (nlt)
How grateful we should be for our godly heritage! Now may God help us pass it on to those who follow after!