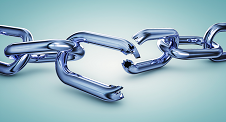 I did not know the woman who knocked on the parsonage door one morning, but her face looked like a tragedy mask carved in granite. "I've come," she said, "because I need to take back four words I said."
"Let's have a cup of coffee, and you tell can me about it."
Her hand shook as she held the coffee cup, but she didn't take a drink. "One Saturday morning my husband was leaving the house for a round of golf, and I said four words to him as he left. He had a heart attack while on the first green. They tried to save him, but they couldn't, and now I can't take back those four words. He's gone, and I'll never be able to say I'm sorry."
I asked her about her relationship with the Lord Jesus, and she assured me she had trusted Him as her Savior. "But even He can't help me take back those four words I said."
"Oh, my dear. When you trusted Christ, He forgave every bad word, every sin. I opened my Bible to Romans 5:20,21:
But where sin abounded, grace abounded much more,
so that as sin reigned in death,
Even so grace might reign through righteousness
to eternal life through Jesus Christ our Lord.
"Can you see, dear friend, that no matter how terrible those words you spoke were, God's grace is so much greater than them? When you asked Christ to forgive you, He did, and then He promptly forgot all about it. So when you bring it up to God, He says, 'I've checked your record carefully, and there's no record of any kind against you.'"
Why could I promise her that? Because—
Hebrew 10:17: "Their sins and their lawless deeds I will remember no more."
Isaiah 44:22: "I have blotted out, like a thick cloud, your transgressions, And like a cloud, your sins. Return t o Me, for I have redeemed you."
Micah 7:19: "You will cast all our sins Into the depths of the sea."
No, that dear woman couldn't take back those four words, but she could thank God that He had forgiven her and cleansed her. But since she still felt the bondage of her forgiven sin, there was one step more, I felt, that she needed to take. Charles Wesley's hymn, "O For a Thousand Tongues to Sing," says, "He (Jesus) breaks the power of cancelled sin. He sets the prisoner free."
This woman was grieved about a sin, a very real heart-breaking sin, that God had already "cancelled." Her punishment had been paid by Jesus. She felt a guilt for something that God had forgiven and forgotten. She was living under a sense of guilt for something that no longer existed. For, as the hymn says, Jesus breaks the power of cancelled sin. I never saw the woman again, but I so hope she accepted the gift of God's forgetfulness and went on to live her life for Christ.
Might it be that you also have been carrying a load of guilt for a failure you have confessed to God and asked His forgiveness for? If so, remember that His grace is greater than the most terrible sin a human being could commit. His grace "avails for you." Take His gift of "cancelled sin," step out from under the burden of guilt you no longer need to feel, and live in the joy of God's overwhelming love.
A Word of Encouragement from Elizabeth Rice Handford