An earnest request from Elizabeth Rice Handford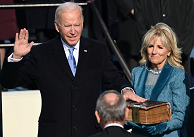 Have you prayed for your president today? I ask this, not as a Democrat or Republican or an Independent, but as someone who suddenly has realized that as a child of God I've been neglecting an important part of my citizenship. I need to be praying more earnestly for my president and my country.
Imagine the incredible burdens the president carries! We live in a toxic, broken world, where our most precious beliefs are being threatened as never before.
Last week Vladimir Putin, who professes that he doesn't even believe there is a God, nevertheless threatened our president with "the wrath of God" (presumably a nuclear bomb) if he dares to investigate Russia's war crimes.
Our nation is in its third year of a pandemic that seems to be morphing into an even more dangerous disease.
Our economic stability is threatened by excessive inflation and interrupted supply lines.
Our dear country is ravaged by hatred and dissent, so that our name, The United States of America seems to belie itself.
Our president is only a human being, yet on his shoulders lies the welfare of literally millions of people. Hebrews 13:17 says he "must give account" to God.
Obey those who rule over you,
and be submissive,
for they watch out for your souls,
as those who must give account.
Infamous Nero was Emperor of the Roman Empire when God commanded this. Romans 13:1 reiterates God's command: "Let every soul be subject to the governing authorities. For there is no authority except from God, and the authorities that exist are appointed by God." So we must obey them because God commanded it, not because we happen to like them.
Recently First Timothy 2:1 burned itself on my heart:
The battle has always been between God and holiness and satanic powers. Our enemies call their evil good, and try to make us believe it. If ever there were a time in American history when Christians should cry out to God in confession and repentance, surely it is now. If ever an American president needed the prayers of God's people, surely it is now. It isn't a matter of politics. It is a matter of right or wrong.
Have you prayed for your president today?