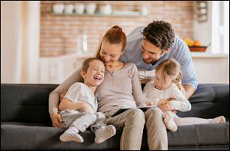 "Celebrities separate parenthood and marriage," our newspaper announced last week (as if we hadn't already noticed!) It isn't just celebrities who reject marriage while bringing children into the world. It's a trend on every level of our society. And, oh, what a tragedy it is for the children!
Why? Because children need a home, a personal and private, holy sanctuary where they can find safety and security, a place of unconditional love and commitment, with a father and mother who love each other.
This home is not a place where "they have to take you in," as Robert Frost wrote in "Death of a Hired Man." They don't have to take you in; rather they welcome you with out-stretched arms. Home is where children and their parents are joyfully, intentionally, and lovingly brought into the comforting shelter of the family.
Home is where every member of the family, father, mother, and children, can rest safely, protected and sheltered from temptation and harm—if the home is shaped like God intended. It's a place where children can thrive in unconditional love.
An unmarried couple once said to me, "A marriage certificate is just a sheet of paper." But that isn't true, and they knew it wasn't true, else they'd have done it for convention's sake. The truth is, they were unwilling to make the commitment to each other that a marriage certificate demands. Marriage is a promise to love and be faithful "as long as we both shall live," without reservation or regret.
Jesus said, in Mark 10:7-9, "A man shall. . . be joined to his wife, and the two shall become one flesh; so then they are no longer two, but one flesh. Therefore what God has joined together, let not man separate." In Malachi 2:24 God says He witnesses those holy vows.
In this godly home, children are not burdens to be endured. Rather, they are precious assets, nurtured and encouraged, disciplined and cherished, thoughtfully prepared for a productive life in a hostile, godless world.
In this sweet, irreplaceable home, they aim to love each other as Jesus loves us, compassionately, sacrificially, always, and forever. Ephesians 5:25 says husbands must love their wives with the same love Christ showed the church. What kind of love is that? Jesus gave suffered a terrible, bloody death on the cross to redeem us. That's the kind of love that ought to shape every home.
Unless the LORD builds the house, they labor in vain who build it . . . .
It is vain for you to rise up early, to sit up late, to eat the bread of sorrows;
For so He gives His beloved sleep.
Behold, children are a heritage from the LORD, the fruit of the womb is His reward.
Psalm 127
Unfortunately, as you've undoubtedly noticed, the people in this blessed home are not always so wonderful or perfect. Every family member will sin. And that's why this home is irreplaceable, because each one will strive to forgive others "even as God, for Christ's sake, has forgiven them" (Ephesians 4:32).
It isn't an impossible dream, but it will require diligence and discipline. God has promised to help you every step of the way.
—And oh, how your children need it!
—And oh, how God yearns to help you achieve it!
A Word of Encouragement from Elizabeth Rice Handford