A mild admission from Elizabeth Rice Handford
Walt and I were standing at dusk in the church parking lot with other church members, enjoying the air before the evening service. Some of the highschool boys were skate-boarding. I was intrigued, so this sixty-year-old pastor's wife said, "Hey, guys, could I try it?"
"Sure. Hop on."
Behind me I heard a quiet, stern voice. "Libby, no." It was my husband's preacher voice, the compassionate but uncompromising voice he used when preaching about really serious stuff. So I stepped down, turned around and grinned.
Then I saw that seven or eight women behind me, mothers of the skate-boarding teens, were staring at me with consternation. They obviously wondered if I'd take offence at Walt's very authoritarian tone and disobey him. No. When we married, I understood Walt was responsible to God for my welfare, and I promised God I'd follow his leadership.
Of course you'll take Walt's side about the skateboard. I hadn't been a lithe athlete when I was young, and I certainly wasn't when I was sixty! Thank God He gave me a husband who loved me, who willingly took the onus of protecting me from my stupidities, who, when I needed it, said, "Libby, no.".
Sometimes my loving and wise Heaven Father says, "Libby, no" when it's something I desperately want and think I need. But Matthew 7:9-11 asks, "What man is there among you who, if his son asks for bread, will give him a stone? Or if he asks for a fish, will he give him a serpent? If you then, being evil, know how to give good gifts to your children, how much more will your Father who is in Heaven give good things to those who ask Him!" A loving father will not give his child something that will hurt him. Nor will my loving Heavenly Father give me something that will harm me, no matter how much I think I need it. James 4:2,3 says, "You don't get what you ask for because your whole motive is wrong–you want only what will give you pleasure."
And look at Psalm 25:8:
The LORD is good and
He always does what is right.
Did I find it always easy to accept Walt's, "Libby, no"? Of course not. After Walt and I got our pilot's licenses in our fifties, he went on to earn advanced ratings. I had completed my instrument training and passed the written test. I had only to take the check-ride with the FAA inspector to get my new rating. But Walt said, "Libby, I've thought about it. I don't want you to get your instrument rating. So many times I've been caught in terrible weather. I can't bear to think of your flying alone, frightened and in danger. So no instrument rating. O.K.?"
Now I knew that obedience wasn't really obedience if I obeyed Walt only when I agreed with his decisions. So, no, I didn't take the check ride. I didn't earn my instrument rating. I never flew alone in instrument conditions.
So what? Don't feel sorry for me. Walt's "no's" were far fewer than his "yes's." I climbed inside the Cheops pyramid all the way to the top. I crossed the mile-wide Ubangi River in a dugout canoe. I waded through King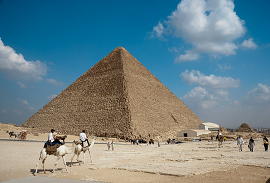 Hezekiah's tunnel beneath the ancient walls of Jerusalem. I've enjoyed so many happy and exciting adventures. Living under my husband's authority was good for me, not hurtful. Best of all, Walt and I enjoyed a wonderful lifetime of serving Jesus by serving people. I promise you I have never felt deprived.
That's why I hope never to begrudge it when I hear God's tender voice say to me, "Libby, no!"