A Word of Encouragement from Elizabeth Handford
Odd how reading a passage of Scripture can bring back old memories. This week, I came to Ecclesiastes 10:10 in my daily Bible reading:
"Cutting logs with a dull ax makes you work harder.
A wise man will sharpen his ax.
In the same way, wisdom can make any job easier."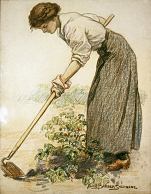 That Scripture reminded me of a hot July day, years ago in Illinois. I was hoeing around the tomato plants in our garden, and making a hard job of it. I complained to Walt, "I can't believe how stubborn those weeds are."
"Here, honey, let me have your hoe. I need to sharpen it."
Simple solution! The weeds surrendered to my sharpened hoe.
"In the same way," King Solomon added, "wisdom can make any job easier." Seventy years after that battle with the weeds, I am confronted with a similar challenge, a challenge of the mind. A dear friend helped me upgrade to Windows 10. That meant a new software program for one of my projects. Ginnie offered me two choices. One program is comparatively simple, similar to what I now use. I should be able to master it fairly easily. It is reliable and efficient, but it has limitations. Another program is much more sophisticated. It has many more useful features which would be of inestimable help in my work. But, my honest friend warned me, it has a much steeper "learning curve." If I committed myself to master it, it would save me hours of tedious work. But disciplined study has to come first. "Wisdom can make any job easier."
What is true in the physical and mental world is also true in the spiritual world. A loving father know that to build a relationship with his son, he must spend time with him, and learn to know his heart. A caring wife knows that the kind of relationship she yearns to have with her husband will take time and thought. A wise employee will work diligently to master his responsibilities so he can please his supervisor. So why is it that we seem to assume we can have a deep and abiding relationship with God our Creator and King without spending time with Him to learn His heart? Jeremiah 29:11-14 says,
For I know the thoughts that I think toward you, says the LORD,
thoughts of peace and not of evil,
to give you a future and a hope.
Then you will call upon Me and go and pray to Me,
and I will listen to you.
And you will seek Me and find Me,
when you search for Me with all your heart.
I will be found by you, says the LORD.
God promises us we can find Him, when we seek Him with all our hearts. It will take time and diligence, and a surrendered heart. But oh, what joy and what peace He gives when we come to Him, on purpose, to find Him.