The weatherman predicted we'd have 2-5 inches of snow last Saturday night, and the snow arrived right on schedule. My children helped prepare me for the siege, a pantry full of food, extra bread and milk in the fridge, and Dog Chow for little Schatzi. I thought the snow absolutely beautiful. Everything that was ugly and broken magically turned into mysterious and lovely shapes.
Though the snow was beautiful to me, it meant long and desperate hours of work for a whole lot of people. I wished I could do something to help. But what could I do? I couldn't even shovel a path from my house to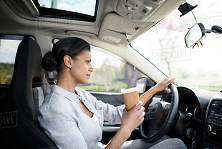 the road, let alone seriously lift a burden for someone else. I did phone several people I knew who lived alone, to see if they were safe.
But a woman in a nearby community who felt that same burden for her neighbors didn't just worry; she did something about it. Saturday afternoon she drove up and down her street, scattering cupsful of rock salt. She hoped somehow it might keep the street navigable.
But a neighbor posted the story on the community mailbox, ridiculing the woman. How stupid, he ranted, that she thought she could help with her measly paper cups of salt!
But he was wrong.
The Bible tells us of a woman who "did what she could" in Mark 14:1-9. Mary brought some costly perfume to anoint Jesus. She somehow understood, when most people didn't, that Jesus would die on the cross within a few days. That dear woman wanted somehow to express her love and grief for the Savior. Some of the disciples made fun of her for "wasting" the perfume.
But Jesus replied, "Leave her alone. Why berate her for doing such a good thing to me? You will always have the poor among you, and you can help them whenever you want to. But I will not be here with you much longer. She has done what she could and has anointed my body for burial ahead of time. I assure you, wherever the Good News is preached throughout the world, this woman's deed will be talked about in her memory."
How wonderful! She "did what she could." The Lord Jesus valued it so much He said even we would all treasure her sacrifice.
The secret is, I think, that God loves to help people who know they are weak, but who have a burden to do something good for Him. In Isaiah 40:29-31 God says this about Himself:
He gives power to those who are tired and worn out; He offers strength to the weak. Even youths will become exhausted, and young men will give up. But those who wait on the LORD will find new strength. They will fly high on wings like eagles. They will run and not grow weary. They will walk and not faint.
Thank God for people who see a need, and do what they can to meet the need. It's certainly more effective than those who sit around doing nothing, and criticize everybody else. I hope you won't listen to the snide remarks of people when you're trying your best to do something good for God. After all, God is going to make what you do effective, when you lean on Him for His strength and His wisdom. Yes, even if it is something as simple as throwing cupsful of rock salt on the road before a storm!
A Word of Encouragement from Elizabeth Rice Handford