A Word of Encouragement from Elizabeth Rice Handford
Remember the refrain from the children's book, "The Little Engine That Could"? As the small engine worked to pull an impossible load, it sang, "I think I can! I think I can!"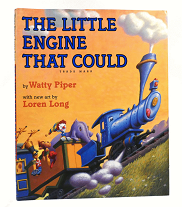 That engine, built only to shuttle locomotives from place to place, was asked to carry a trainload of toys for children up over a high mountain. I think I remember a clown riding on the coal car, and a giraffe's head sticking above the toys. But "the little engine that could" was willing to try. And when he got to the top of the mountain, he merrily sang, "I know I can! I know I can!"
That could have been the John R. Rice family motto. Mother and Daddy were so committed to serving God with all their hearts that they took on enormous projects, mind-defying projects, and by faithful, thoughtful work and with God's help they accomplished wonderful things.
So when Daddy gave us Rice sisters a project to handle, we didn't often venture to say, "Daddy, I don't think I can do that." However reluctantly, we attempted what he wanted, and with God's help, and Mother's and Daddy's wise example, we did accomplish some things we didn't think we could.
But that was back in the 1930's and '40's. Fast-forward to 2022, and I'm no longer a teenager. Nothing is easy for me to do anymore. I can't see well. I can't hear well. I can't walk well. I don't always remember well. But my life-long burden to help people know the Lord still lies heavily on me, and that causes conflict in my heart. The other morning I found myself saying to the Lord about a certain obligation, "I don't think I can do it!"
But that morning's Scripture was the story of Gideon. (Interesting to see how often the scheduled Bible passage is exactly what I'm going to need that day!) The angel of God sat under a tree and said to Gideon, "The LORD is with you, you mighty man of valor!" God had a mission for Gideon, to free Israel from their terrible enemy, the Midianites. But Gideon thought God was making a a huge mistake. Gideon's family, he answered, was the "the least of the tribe" and his tribe "the least of the tribes of Israel." But the Lord said to Gideon:
"Go with the strength you have." Judges 6:14 (nlt)
Sure enough, Gideon's "little" strength, enabled by God's mighty strength, was enough to conquer with only 300 men the formidable Midianites.
Shouldn't I expect the same help from God? Yes, because He has made the same promise to me. I must do today whatever God wants of me with what little strength I feel I have. And so must you. Why? Because He has the power to help us do what needs to be done.
My grace is sufficient for you,
for My strength is made perfect in your weakness." 2 Corinthians 12:9
So God can use us, no matter how inadequate we feel. That's all God expects of us: just do what He told us to do. He will use His strength, His wisdom, His love to accomplish His work through us.
So today I'm going to say, "I think I can," and maybe I will be a little engine that could after all!.