A Word of Encouragement from Elizabeth Handford
We buried my son-in-law today. It was a crisp, suddenly cool October day. The Marines folded the flag from his casket with meticulous care, and taps echoed across the low hills. We said "good night, not "good bye,"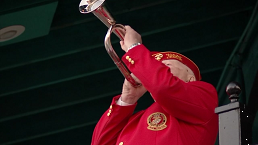 to this good man who'd served God all his life. We knew he stood in the presence of the Lord Jesus Himself, and we were comforted.
I had invited his children and theirs to come home with me after the service for a bowl of Campbell Soup chicken corn chowder. I promised them no pressures, no expectations. Just a time of quiet refuge from the pressures of the day.
But a phone call after the service told me others needed to come. I said, "Certainly." Then I frantically stretched the chicken corn chowder with cans of corn and canned chicken. I felt ready, sort of, when they all arrived, three times the number I'd planned for.
I shouldn't have worried. Food was not their concern. For a long time they stood down by the lake shore, standing in the sunshine, reminiscing and quiet. After a while, they all came in. I sat the children at the breakfast table and served them bowls of chowder. Then the ten of us sat around the big family dining table, and talked. And talked. And talked. The chowder stretched enough to feed everybody.
As I listened to the open-hearted conversations this evening, I felt like weeping. It was not casual talk. They spoke of deeply personal and spiritual things. They laid out various views of life. Long-standing tensions between a couple of family members were eased. They shared the ways God has led them in their different paths. They honestly revealed heart needs and hopes. They expressed their contentment with God's leading. The conversation actually lasted for several hours, long after the food was gone. We sat at the table and talked while the children played hide-and-seek in the dark yard. And no one noticed the clock.
This day has ended. My heart is full of gratitude that God used our home to bless suffering people. They didn't really need the corn chowder. They hadn't talked about who said what to whom. They had just shared their hearts, and they were listened to with compassion and understanding by others.
Have I missed other such opportunities because I was worried what someone might think? What food I'd serve? What dishes I'd use? How I was dressed? My lack of decorating skills? If so, what a loss! Those insignificant things really don't matter. The Apostle Paul writes:
For I want you to understand what really matters,
so that you may live pure and blameless lives until Christ returns.
Philippians 1:10 (nlt)