A Word of Encouragement from Elizabeth Rice Handford
You may feel you have good reason not to vote in this election. (I write not as a Democrat or Republican or Independent, but as a simple Christian burdened for our country.)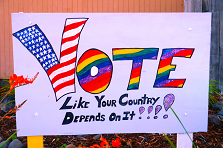 "My one vote won't make any difference," you make think. But by your not voting, an unsuitable candidate might win. If other Christians decided not to vote, we would have no influence at all on our culture. But if you vote and express your opinion for what is right, you've stood for truth, even if your good candidate didn't win. And by your vote, you will encourage other good candidates to run.
"My vote may be stolen or left uncounted," you may protest, in the light of irregularities uncovered in past elections. But it seems evident that this election will have more poll-watchers and intense scrutiny than any election in recent history. Don't let lethargy steal your vote!
You might say, "I don't know who to vote for; all of the candidates have marks against them." True, because we are all imperfect human beings; none of us does right all the time. But we must choose personal integrity and mature wisdom as best we can, and trust God to help those elected to rule well. "The king's heart is in the hand of the LORD. Like the rivers of water, He turns it wherever He wishes." (Proverbs 21:1)
"But politicians never keep the promises they make on the campaign trail." Alas, that's too often true, for many reasons. President Eisenhower expressed great frustration because too many congressmen wanted something to their constituents' profit attached to his bills. However, there is safety in the checks and balances between the Supreme Court, the presidency, and the congress built into our constitution. And, yes, we must keep pressure on our civil servants to honor their campaign pledges.
The prophet Jeremiah told the Israelites held in captivity in Babylon, "Thus says the LORD of hosts to all who were carried away captive, whom I have caused to be carried away from Jerusalem to Babylon: Build houses and dwell in them; plant gardens and eat their fruit. . . And seek the peace of the city where I have caused you to be carried away captive, and pray to the LORD for it; for in its peace you will have peace" (Jeremiah 29:4-7).
We Christians are, in a sense, living in a foreign country, in a culture bitterly opposed to the spiritual truths we hold dear. But God says we have an obligation even to this hostile culture. Philippians 2:13-15 says it this way:
It is God who works in you both to will and to do for His good pleasure.
Do all things without complaining and disputing,
That you may become blameless and harmless, children of God
without fault in the midst of a crooked and perverse generation,
Among whom you shine as lights in the world,
We Americans owe a terrible debt to the one million service people who have given their lives in battle to save our country from despots, and millions more who have worked to make this country what it is. We must value their sacrifice. We must preserve for our children this dear land. So yes, as good citizens who've been so greatly blessed in America, let's vote!